Napier Port – building for the future
New Zealand is a maritime nation, and its economy and wellbeing is dependent on its ports for the efficient handling and distribution of import and export cargo. In this, the first of a series of articles on our nation's air and sea ports, we look at Napier Port on the North Island's east coast.
There's been a port at Napier since 1855. Originally located at Ahuriri just north of the city, the port was a thriving centre of commercial activity until the devastating earthquake of 1931, which raised large areas of the seabed, making the port unusable. All operations were relocated to the deeper waters below Bluff Hill where a new breakwater had been constructed, and this remains the port's principal location.
Run by the Napier Harbour Board until the late 1980s, the government waterfront reforms of the time saw the creation of the Port of Napier as a limited liability company. Originally 100% owned by the Hawke's Bay Regional Council, in August 2019 the council floated 45% of its stake in the port company through an initial public offering (IPO) on the NZ Stock Exchange.
Today, Napier Port is New Zealand's fourth-largest container port by total TEUs (20 ft equivalent units) and has experienced growth in cargo volumes over the last 10 years. Being a listed company has set the platform for the port's future growth, including paving the way for the construction of a new sixth wharf, and the company now has approximately 9000 shareholders, including local residents, iwi entities, and 97% of the port's own employees.
Principal commodities and trade Farming, horticulture, wine and tourism are the main industries in the Hawke's Bay region, with Napier Port acting as the major export/import hub. The port connects the region's businesses with world markets, and also provides a gateway for cruise visitors to explore the region.
The port handles over 30 different export and import commodity products, predominantly from agriculture, horticulture and forestry, including meat and meat products, wood (sawn and chipped), pulp and paper, wool, wine, and fruit. Hawke's Bay accounts for two-thirds of New Zealand's apple and pear (pipfruit) output, and its forestry exports represent approximately 11% of New Zealand's total.
Trade is spread across containerised and bulk cargo products, as well as cruise tour-ism. Container trade is diversified across a range of largely export-driven primary produce, while 75% of all containers imported are empty containers to service regional exporters. The majority of bulk cargo exports through the port are log and forestry products, while the key bulk cargo imports are fertiliser, petrochemicals and cement.
Ten international shipping lines call at the port, including Maersk Line, CMA CGM, Cosco, Hapag-Lloyd, Hamburg Sud, MSC and Swire. The main destinations for exports from the port include Europe and the UK, China, the USA, Japan and Australia. The port also provides a regular service to the Chatham Islands and other domestic service connections.
State highways, rural roads, rail lines, freight hubs, coolstores and the port form a complex network of supply chain infra-structure across the region and beyond. The port is positioned on New Zealand's main north-south shipping route, with national rail and road network connectivity. It is linked to the lower North Island by SH2 and to the central North Island by SH5, and the main rail line from Wellington to Hawke's Bay and Wairoa includes a branch line to Napier Port.
Napier Port actively works with the New Zealand Transport Agency, KiwiRail and Hawke's Bay councils to ensure the right infrastructure is in place to support increasing cargo volumes.
Maritime and landside features
Napier Port's onsite port land comprises around 50 ha, with five existing wharves providing six commercial berths and the new wharf planned for 2022. The existing five wharves can berth vessels up to 348 m in length. Being a deepwater port, vessels up to 12.4 m draught – including the giant cruise ship Ovation of the Seas – can be berthed alongside. The port has three harbour tugs.
Napier Port's container terminal is one of the largest in New Zealand and operates six days a week (Monday to Saturday). Facilities include six mobile harbour cranes, over 1000 reefer (refrigerated containers) points and a fleet of heavy machines, including full and empty container handlers.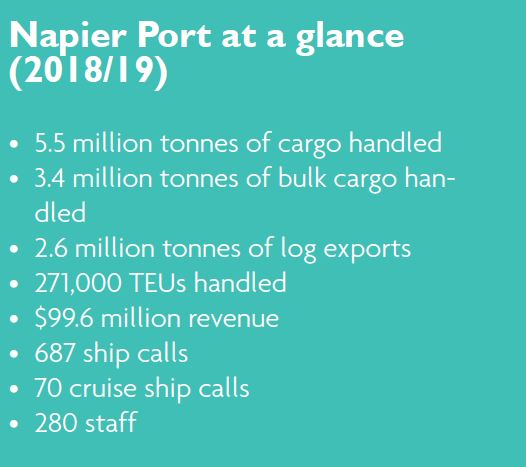 The port utilises the terminal operating system NAVIS N4 and operates a vehicle booking system to keep truck traffic flowing. A contract team from SSA New Zealand provides dedicated stevedoring services, including lashing and unlashing containers onboard a vessel.
In addition, the company operates a 10 ha dedicated on-port depot with facilities for the management of empty containers, including wash, repair and pre-trip facilities. This depot is supported by offsite facilities in Thames Street, Pandora – Thames Street I and Thames Street II – which provide an additional 11.6 ha of empty container storage. Around 5 ha is already in use at the Thames Street I Depot, while the remaining area will be available and free up more space on-port when the Thames Street II Depot comes online in early 2020.
Thames Street is a key logistics hub that will allow the port to efficiently service growing trade volumes and facilitate customer and regional growth. There is also a dedicated on-port log storage area of around 10 ha.
Port Pack is an onsite packing and devanning facility accessible via road and rail. Comprising 8000 sq m of paved and covered area, it is one of the largest packing facilities in New Zealand and provides a central delivery point where bulk cargo can be packed into containers before being moved to the container terminal.
Supporting Napier Port's customers in the lower North Island is the Manawatu Inland Port, which the port has developed in partnership with Ports of Auckland and Hall's Transport. Situated in Longburn at Palmerston North, the inland port is linked directly to Napier Port via rail and provides an efficient supply chain solution for shippers in the Manawatu region. It provides storage and depot services and includes dry storage, cross-dock and container handling facilities.
Cruise tourism brought an estimated $28 million into the Hawke's Bay economy in the 2018/19 season, and Napier Port welcomes cruise ships from around the world from October to April. In the 2018/19 season, the port experienced 70 cruise ship calls and handled over 115,000 passengers; the port expects to exceed these figures for the 2019/20 season.
Technology
Napier Port's operating environment is increasingly data-driven, with a key focus of the management team's strategy being to capture, store, connect and analyse data to create efficiencies within its operations and deliver greater value for its customers. It has introduced a number of new technologies in recent years.
All shipping lines that call at the port are added to the Automated Load List Reconciliation system which allows shipping lines themselves to validate that vessel loading is the same as the bookings made by cargo customers. The new system has reduced ship planning administration by 60 hours per week in the peak season. Maersk is now rolling this system out to other ports in New Zealand, with further plans to roll it out internationally.
The port has developed its own software solution that automatically assesses the position of a container on a ship and identifies visually on a screen whether a container requires a twist lock (used to hold specific containers in place on a vessel). This new automated process replaces the previous manual system and saves 30 minutes per vessel.
In collaboration with exporter Winstone Pulp International (WPI), the port has developed an app that allows their team to photograph and report product and pack-aging issues using their mobile device, with the data immediately integrated into WPI's system. This means WPI can trace where any damage occurs in their supply chain and proactively work to reduce it.
The port will soon launch an in-cab application for crane operators, shipside heavy forklift operators and stevedores that automates the processes for container vessel exchanges. This improvement will extend the container acceptance window for the port's customers and allow planning to be more dynamic and responsive to their needs. The new process will eliminate paper-based processes altogether and reduce Napier Port's paper consumption by 2.5 tonnes a year.
New technologies have also been deployed in the harbour. Through solar- powered monitoring buoys and gauges, the port can collect real-time data on water clarity, temperature, currents, tides and wave height. This information provides a strong picture of the health of the harbour and the mauri (life force) of Pania Reef, and allows the port company to respond quickly to changing conditions in the harbour.
Challenges
Port environments are inherently complex and high-risk operations. Like all New Zealand ports, Napier Port shares a legacy of old and ageing infrastructure and the associated challenges this presents.
Over the last eight years, Napier Port has focused heavily on building a safety culture. This has included the recent introduction of a 'Culture of Care', a foundational strategy which encourages care for its people, the local community and the environment. Building leadership and talent is key to this – five senior managers have completed the CILT NZ Leaders for the Future programme. There has also been a sustained focus on critical risk, and a thorough analysis of each of the port's top eight critical risks has been completed, using a robust methodology for risk assessment and mitigation. A new ID and access system called Port Pass ensures safe, secure and efficient access to the port.
While Napier Port has an unwavering commitment to health and safety, it acknowledges that it has also experienced a number of incidents and near-misses in the last year, including two serious harm injuries. Additional resourcing in the health and safety space has been allocated to enable the port to achieve their goals within a shorter timeframe.
Recognising the importance of leaving a positive legacy for future generations and the need to respond to global challenges like climate change, in 2019 Napier Port started work on a sustainability framework which focuses on four interconnected themes: people/manaakitanga, planet/ kaitiakitanga, prosperity/ohanga ora and partnerships/rangapu. Their work is being guided by the United Nations Sustainable Development Goals, which are globally recognised and provide a blueprint to build a better and more sustainable future for all. The port intends to release its final strategy in the second half of 2020, and in coming years will publicly report on progress against sustainability objectives.
Its long-term goal is to work towards Global Reporting Initiative (GRI) reporting, which is the global best practice for reporting on economic, environmental and social impacts.
Vision for the future
Napier Port's 30-year masterplan, released in 2019, includes options to develop infra- structure over the next three decades. Its most significant project is the construction of 6 Wharf, which is now underway and due to be completed by 2022. 6 Wharf will be able to handle container ships up to 320 m in length with a 48 m beam, and cruise ships up to 360 m long. The port has resource consents to dredge up to 14.5 m in the swing basin and harbour entrance to accommodate larger vessels.
In addition, 6 Wharf will be multi- purpose and used for both container and cruise ships. It also has the potential to support twin-lift ship-to-shore gantry cranes if needed in the future (the port currently uses mobile harbour cranes). The trend for larger-size container vessels to visit Napier Port looks set to continue as trade volumes increase. The largest container vessel currently calling at the port has a maximum capacity of 5762 TEUs, but the port estimates ships of between 8000 and 12,000 TEUs could be expected on some of their service routes within the next 30 years.
The port has also purchased 12.3 ha of land in the industrial area of Whakatu, midway between Napier and Hastings. With good road and rail connections, the land has the potential to be developed and enable Napier Port to expand its storage capacity and improve the supply chain.
The region's pipfruit export volumes are forecast to continue to grow – estimated at up to 50% in the next 12 years – and getting products to market quickly is key to preserving the quality and presentation of the fruit. The port's 30-year master-plan addresses the challenges posed by this growth, including the provision of dedicated berths that are not affected by congestion, strong controls to manage biosecurity risks, pests and disease, and the development of inland hubs and transport connectivity to ensure products get to market as quickly as possible.
Likewise, forestry harvests in Hawke's Bay are expected to grow over the next five to 10 years as more trees come to maturity.
KiwiRail's recent reopening of the rail line between Napier and Wairoa, with the help of the Provincial Growth Fund, will offer the region a safe, direct and sustainable alternative to trucking logs via SH2 and help to deliver economic growth.
Also on the port's 30-year wishlist is increased log, pulp and fertiliser facilities, expansion of the container terminal, a dedicated area to berth service craft such as tugs and pilot boats, the development of an on-port rail terminal, and improvements to its western and eastern road entrances. The timing of these actions will be dependent on actual trade volumes, but whatever options are done will be pursued in line with the port's sustainability strategy and the four objectives of 'optimise', 'grow capacity', 'partner' and 'preserve' in mind.