Assessing and forecasting demand and revenue for toll roads in New Zealand
Sixty years ago, in 1959 (an auspicious year for one of the authors), the Auckland Harbour Bridge opened with a toll of two shillings and sixpence for cars (25 cents). Some 11,205 vehicles crossed the 1.2 km bridge. With 23-fold inflation, the toll in 2020 would be $5.77 for cars and motorcycles and $11.54 for HGVs and buses. With 170,000 vehicles using the bridge per day, 2019 revenue would probably be around $300 million (including GST) after allowing for some toll aversion. Such an amount would certainly be welcomed by Waka Kotahi NZ Transport Agency to help them fund the transport projects needed to meet the city's increasing population.
However, as with the Tauranga Harbour Bridge (tolled for 13 years between 1988 and 2001), the toll was removed in 1984 when the $15 million construction cost ($347 million in 2020 dollars) was paid. By contrast, the Sydney Harbour Bridge is still tolled (south-bound) despite paying the construction cost several times over. The toll was first retained to pay for a harbour tunnel and then, when that was paid, it was retained as a source of state revenue (since most taxes and charges are levied federally) and as a demand management 'tool' ($4 peak, $2.50 off-peak).
Current toll roads in New Zealand
In 2020, three toll roads operate in New Zealand. The Northern Gateway north of Auckland was the first to be opened in 2009. The 7.5 km road extended the motorway from Orewa to Puhoi, bypassing the seaside towns of Orewa, Hatfields Beach and Waiwera, and in so doing cutting the drive time by 10 to 25 minutes.
Two Tauranga toll roads started operations mid-2015. The 5 km Takitimu Drive bypasses the city centre on the northern side, taking traffic off SH19 to SH2 in the direction of the Port of Tauranga and Mt Maunganui. The Tauranga Eastern Link, costing $455 million, runs for 21 km between Papamoa and Paengaroa, of which 15 km is tolled, and provides an alternative to driving through Te Puke when travelling between Tauranga and Rotorua or the East Cape.
The tolls set on the three toll roads are low by international standards. The Northern Gateway charges $2.40 for cars and light commercial vehicles (LCVs); the Tauranga Eastern Link charges $2.10 and Takitimu Drive $1.90. Motorcycles pay the same as cars. Heavy commercial vehicles (HCVs), including buses, pay double the car toll on the Northern Gateway ($4.40) and around two-and-a-half times more on the Tauranga toll roads.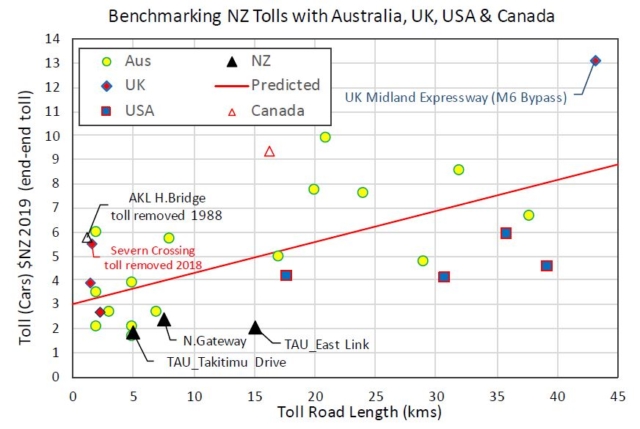 Tolls in Australia (for eight roads in NSW, six in Queensland and two in Victoria) are twice as high as New Zealand. In the UK, tolls on the Dartford Tunnel and Humber Bridge and, up until 2018, the Severn Crossing, range from $2.60 to $5.50. The only major road toll in the UK is the Midland Expressway which bypasses the M6 for 43 km around Birmingham. The end-to-end car toll is $13.
Mainland USA has 77 toll roads (excluding managed lanes, bridges, tunnels) with 25 in Florida and 24 in Texas. As examples, three suburban toll roads in Florida, California and Illinois plus an orbital toll in Texas are plotted on the graph. The US tolls are higher than New Zealand, reflecting longer distances, although the rate per km is similar. In Canada, the Toronto 407 has a toll of $9.40 for a 16 km trip.
Combining the data gives a flag-fall toll for cars of $3.13 per kilometre. If the formula was applied to the nearly completed 26 km Transmission Gully highway out of Wellington, it would be $6.50 for cars, LCVs and motorcycles and $13 for HCVs. It compares with $2.50 if based on the three New Zealand toll roads.
Unlike Australia, all New Zealand toll roads are government operated. Tolls have been increased with inflation. For the Northern Gateway, the car toll has increased just 40 cents in 10 years: from $2 to $2.40. By contrast, Transurban in Australia has increased tolls considerably more than inflation. For example, the car toll for the M2 in Sydney rose 6.6% a year from AU$5 in 2013 to AU$7.83 in 2020.
Revenue and vehicle ramp-up
An area of interest to toll forecasters and financiers is the extent to which demand should be reduced for 'ramp-up' during the early months/years of a toll road's operation. There has been little published research, however. A 2011 Australian review by Davidson ('Modelling Toll Roads – Where Have We Gone Wrong?' for the Australasian Transport Research Forum) concluded that ramp-up dampened demand by 30%, with full demand achieved after two years. However, no evidence was cited, and it could be that Davidson's conclusion was 'industry conventional wisdom'.
The three New Zealand toll roads use electronic toll collection which has allowed the build-up in pre-pay registration and revenue growth to be assessed, as well as vehicle numbers. The data shows revenue ramp-up to be more pronounced than vehicle ramp-up.
Indeed, for the Northern Gateway, time-series regression shows no evidence of vehicle ramp-up, as can be seen in the graph. Traffic grew linearly (i.e. not compounded) at around 9000 vehicles a year (4.6% per annum).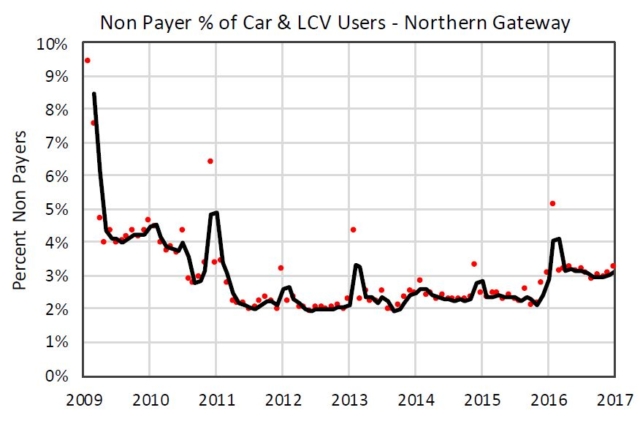 For Tauranga, car, LCV and HCV traffic was 8.5% down in the first three months for Takitimu Drive and 6% down for the Eastern Link. There was no evidence of ramp-up for motorcycles.
There was greater revenue ramp-up due to non-payment as the electronic system bedded in. For the Northern Gateway, nonpayment started around 8% then dropped to 4% within four months and to 2% after two years. The profile was similar for HCVs. Motorcycles weren't tolled for the first 18 months, and when a toll was introduced, 22% of motorcyclists didn't pay initially, with the percentage declining to 10% after six months.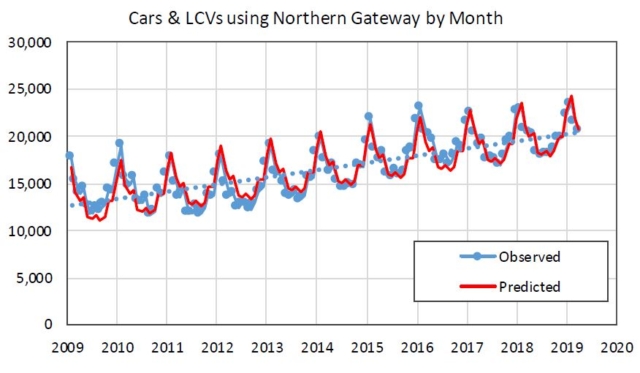 Revenue ramp-up was less for the Tauranga toll roads. There was zero ramp-up for cars and LCVs and only 2% greater non-payment by HCVs during the first four months of operation. Non-payment for motorcycles was higher, with half of Takitimu Drive users not paying at the outset. The share then declined to a third after four years. For the Eastern Link, non-payment has remained relatively constant at around one in five of motorcyclists.
Toll road usage
Cameras using optical character recognition read the front and rear registration plates of vehicles. A registered owner lookup permits non-registered vehicles to be issued a toll pay notice (which includes an administration fee of $4.90). The data collected enables the use by individual vehicles to be categorised by frequency of use.
For 2018, 70% of vehicles using the Northern Gateway used the toll road less than six times, reflecting its 'holiday' status, whereas for the two Tauranga toll roads, the share was 58%. When weighted by trips, the shares dropped to 18% and 7.5%. Infrequent users still accounted for most trips for the Northern Gateway, but for Tauranga, nearly half the vehicles made over 100 trips a year, reflecting relatively higher commuter and business usage.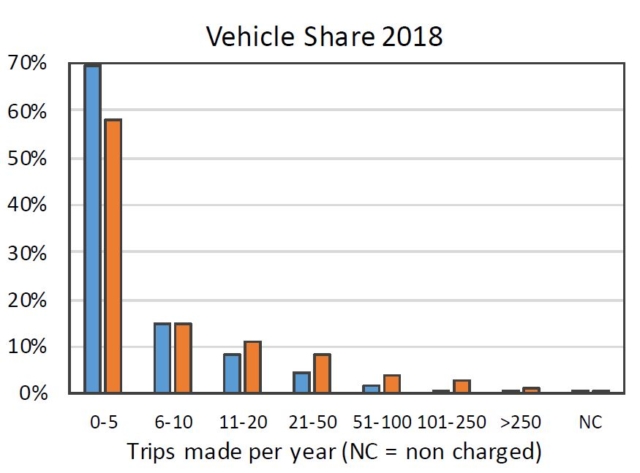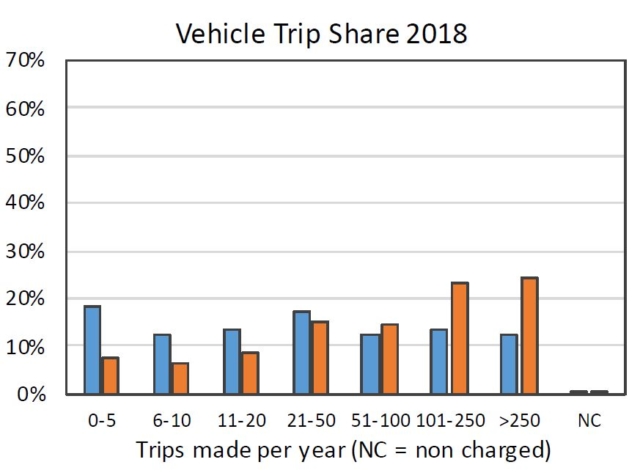 Over the decade 2009–2019, 3.7 million different vehicles used a toll road, which compares with 4.1 million vehicles registered
in New Zealand in 2017. The average vehicle made 23 trips. The database also allows the geographic origin of registered vehicles to be determined. As at September 2019, there were 196,600 live accounts. One half (148,000) were in the Auckland region, a quarter in the Bay of Plenty and a fifth in Northland/Waikato. Around 7% were spread across the rest of the country with 1% registered overseas (mainly Europe, 1000, and Australia, 550).
Analysing the database before and after the opening of the Tauranga toll roads in 2015 enables a gravity model to be fitted to the registration data. Regional registrations per capita were regressed against road distance. Distance was measured for each toll road to the main centre of each New Zealand region. The square root of the road kilometres was then taken and the natural logarithm of registrations/capita as these transformations produced the closest fit to the steep distance decay.
The Northern Gateway was distinguished from the two Tauranga toll roads which produced 28 observations. The same distance parameter was appropriate (-0.16) with the Northern Gateway having a modestly larger constant (4.98) than the Tauranga toll roads (4.63) indicating higher registrations per capita, other things being equal.
As a worked example, the model was used to predict toll registrations for Transmission Gully. Registrations were forecast to increase by around 62,500 (an increase of just over 20% on 2019 registrations). Two-thirds were in the Wellington region and one-third across the rest of New Zealand, with just over 400 additional overseas registrations. Assuming the existing 'national' ratio of toll road use to registration, Transmission Gully vehicle traffic would total 3.3 million trips and generate revenue of $9 million adopting charges of $2.50 for cars, LCVs and motorcycles and $5 for HCVs.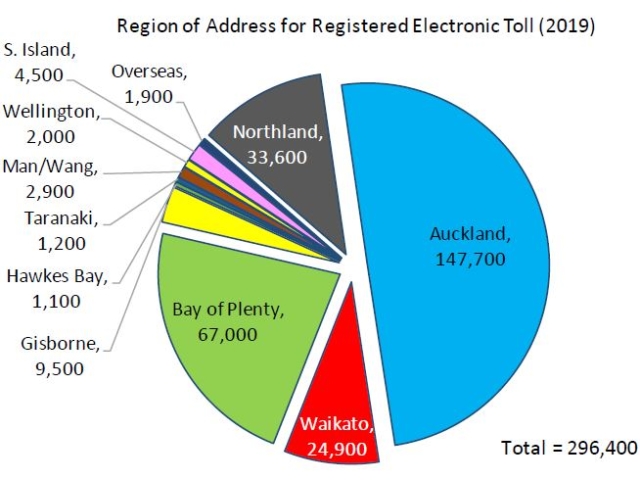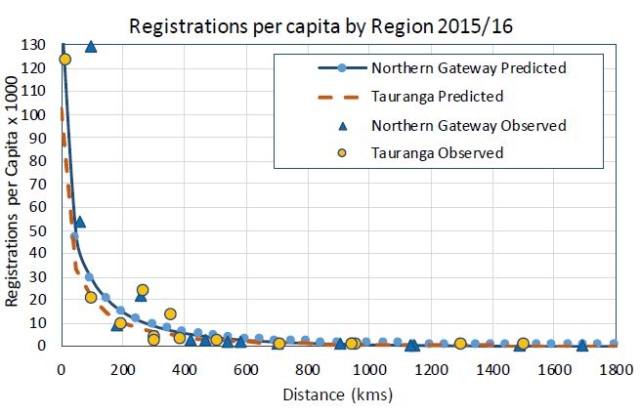 Conclusion
New Zealand has three toll roads that set low tolls roughly half those of Australia. Demand ramp-up over the first months and years of a new toll road has been an under-researched area. Analysis of Waka Kotahi NZ Transport Agency (NZTA) toll data found revenue ramp-up was more pronounced than vehicle ramp-up. Use of registration data to profile toll road demand has not been published to date. NZTA's database has enabled frequency of use and the geographic distribution of toll road users to be profiled. A simple gravity model using regional population and distance was successfully fitted and then used to predict the increase in registrations, vehicle demand and revenue for a new toll road.
The electronic toll system has now been in operation for over a decade and has been widely taken up by the driving population. The system is readily extendable to fund transport infrastructure and better manage demand on New Zealand's busy roads.


Neil Douglas has a PhD in economics from Leeds University and is an independent consultant, a fellow of CILT, the newly elected president of the Australasian Transport Research Forum, and chairperson of the Wairarapa Tree Crops Association; Tony Brennand is a chartered member of CILT NZ and is a transport planning manager at Waka Kotahi NZ Transport Agency. The authors acknowledge the skills of Nicola Will of NZTA without whom this paper would not have been possible. The views expressed are those purely of the authors and do not intend to reflect those of NZTA in any way.